Fedora Hatch 2022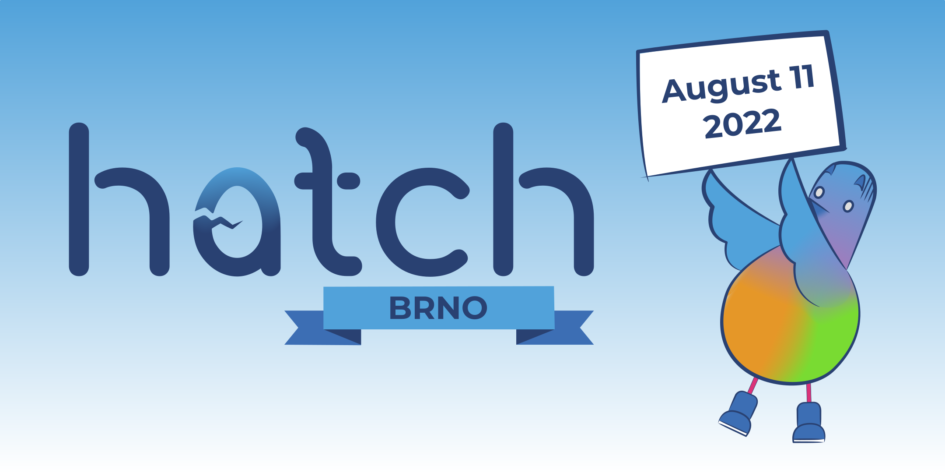 Datum/čas
Datum: 11. 8. 2022–
Čas: 13:00–22:00
Místo konání
Fedora Hatch 2022 se uskuteční 11. srpna v prostorách Red Hat Brno. Přijďte se podívat na přednášky věnované Fedoře a seznámit se s dalšími nadšenci v rámci social eventu po hlavní části programu. Program se aktuálně chystá, jakmile bude připravený, tak jej zveřejníme na této stránce události a na Facebooku!
Vstup je zdarma, ale bude potřeba registrace: https://www.eventbrite.com/e/fedora-hatch-czechia-tickets-372817074907.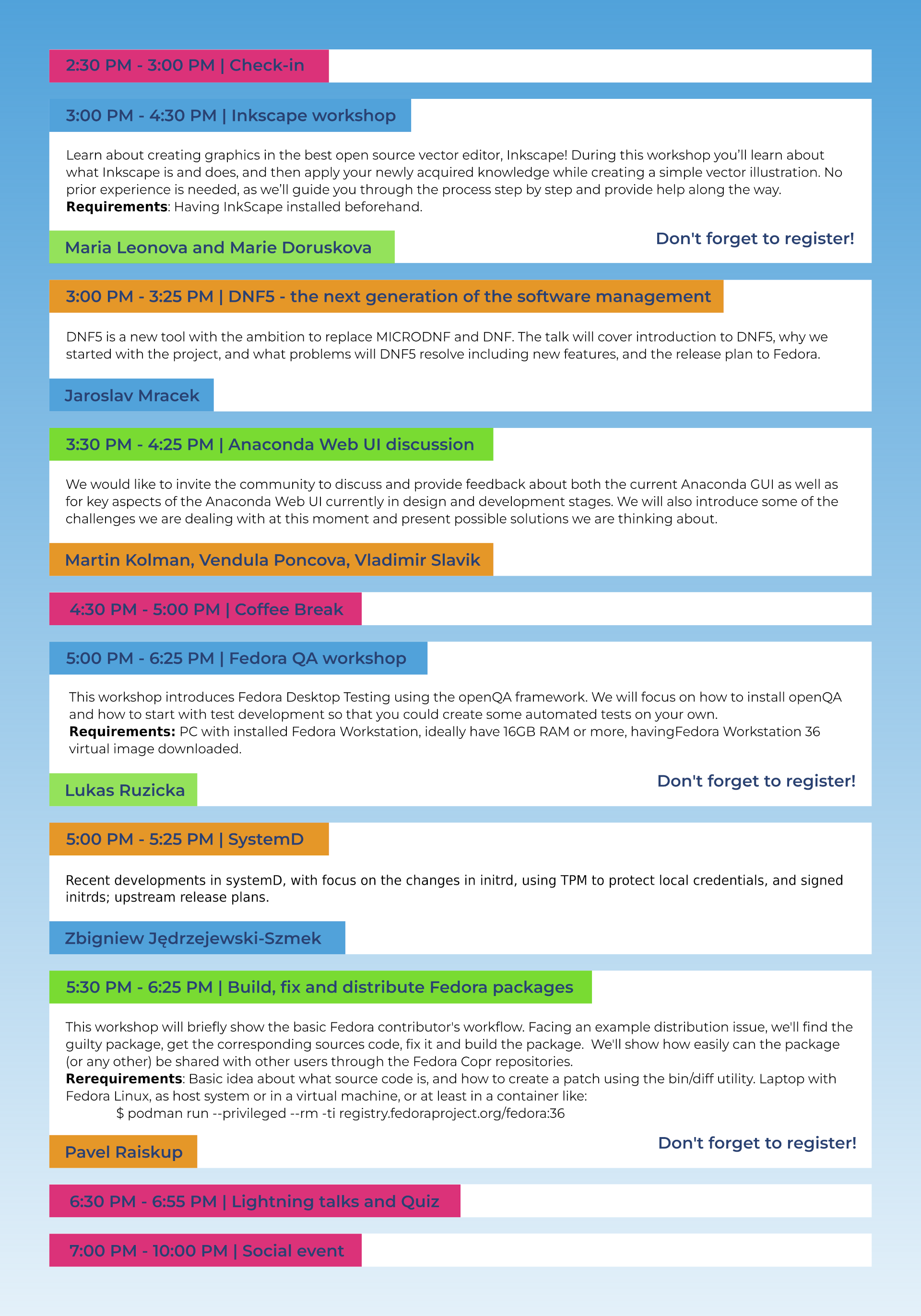 Program:
3:00 PM – 4:30 PM | Inkscape workshop
Learn about creating graphics in the best open source vector editor, Inkscape! During this workshop, you'll learn about what Inkscape is and does, and then apply your newly acquired knowledge while creating a simple vector illustration. No prior experience is needed, as we'll guide you through the process step by step and provide help along the way.
Requirements: Having Inkscape installed beforehand.
Registration is required: https://forms.gle/wNGKApSLxopJ91N67
Maria Leonova
Marie Doruskova

3:00 PM – 3:25 PM | DNF5 – the next generation of the software management
DNF5 is a new tool with the ambition to replace MICRODNF and DNF. The talk will cover an introduction to DNF5, why we started with the project, and what problems will DNF5 resolve including new features, and the release plan to Fedora.
Jaroslav Mracek
3:30 PM – 4:25 PM | Anaconda Web UI discussion
We would like to invite the community to discuss and provide feedback about both the current Anaconda GUI as well as for key aspects of the Anaconda Web UI currently in the design and development stages. We will also introduce some of the challenges we are dealing with at this moment and present possible solutions we are thinking about.
Martin Kolman
Vladimir Slavik
4:30 PM – 5:00 PM | Coffee Break
5:00 PM – 6:25 PM | Fedora QA workshop
This workshop introduces Fedora Desktop Testing using the openQA framework. We will focus on how to install openQA and how to start with test development so that you could create some automated tests on your own.
Requirements: computer with installed Fedora Workstation, ideally 16 GB RAM or more, downloaded Fedora Workstation 36 installation image.
Registration is required: https://forms.gle/L7Beh9uHunirEFHD9
Lukas Ruzicka
5:00 PM – 5:25 PM | What's new in systemd
Recent developments in systemd, with focus on the changes in initrd construction, using TPM to protect local credentials, and signed initrds; upstream release plans.
Zbigniew Jędrzejewski-Szmek
5:30 PM – 6:25 PM | Build, fix and distribute Fedora packages
This workshop will briefly show the basic Fedora contributor's workflow. Facing an example distribution issue, we'll find the guilty package, get the corresponding sources code, fix it and build the package. We'll show how easily can the package (or any other) be shared with other users through the Fedora Copr repositories.
Prerequisites:
– Basic idea about what source code is, and how to create a patch using the /bin/diff utility.
– Laptop with Fedora Linux, as host system or in a virtual machine, or at least in a container like
$ podman run –privileged –rm -ti registry.fedoraproject.org/fedora:36
Registration is required: https://forms.gle/L7Beh9uHunirEFHD9
Pavel Raiskup
6:30 PM – 6:55 PM | Lightning talks
7:00 PM – 9:00 PM | Social event